ELECTION INFORMATION
Click Here to Learn Your VOTING RIGHTS
Clerk Here to Find Out Where your Polling Place Is
 Election Information
For details on kicking off our campaign click here! 
Voting Districts
Magisterial Districts and
Voting Precincts of Jefferson County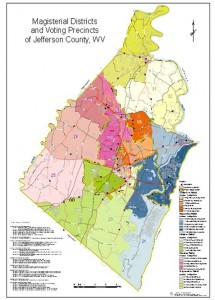 Click for interactive Map
If the image fails to load visit the County Clerks Webpage at:
http://jeffersoncountyclerkwv.com/
Every 10 years, based on a census taken by the Federal
government, the state legislatures redraw their Congres-
sional Districts to make each one contain approximately
the same number of people. They then redraw their
state Senate and House Districts according to the same
principle. Next, the counties redraw their Magisterial
Districts and voting precincts.
U.S. Congressional Districts

 Click Image For Detail
The 2nd Congressional District in-
cludes seventeen counties and
stretches from the Potomac
River in the Eastern Panhandle
to the Ohio River in Jackson
County.
West Virginia State Legislature
State Senate
The 16th Senatorial District includes
all of Jefferson County and about
half of Berkeley County. It is repre-
sented by two state senators
State House of Delegates
Jefferson County consists of three full Delegate Districts; District 65
in Charles Town and Ranson; District 67 from Shenandale through
Harpers Ferry, Bolivar, and Bakerton to Shepherdstown; and
District 66 covering the rest of the County, including Middleway,
Summit Point, Rippon, and Kabletown.
Jefferson County Magisterial Districts and Voting Precincts
Jefferson County is divided into five Magisterial Districts and each
is divided into voting precincts. The five Magisterial Districts are
Charles Town, Harpers Ferry, Kabletown, Middleway, and Shep-
herdstown. County Commissioners, School Board members, and
Political Party Executive Committee members are elected based on
the Magisterial Districts. There must be one County Commissioner
from each District and there can be no more than two School Board
members from one District. Both are voted on by all of the voters
in the County. Executive Committees consist of one man and one
woman from each District. Only those voters in the District can
vote for their District's Executive Committee members.
Save
Save
Save